On Site Balloon Decor Setup Service - Vancouver BC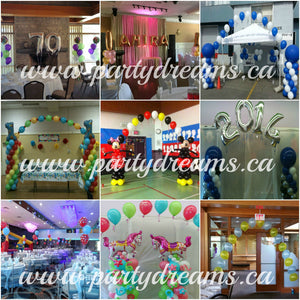 Welcome to Party Dreams! Your favorite local Balloon Decor Company, we turn your dreams into reality.  With our group of experienced balloon designers, we decorated many wonderful parties and events.  Planning how to decorate your party/ event can be a hassle, therefore you need a professional balloon decor company to plan and design for you.  We offer different balloon decoration packages suited for different occasions and they are all customizable to your needs! 
The most popular types of balloon decorations that we do:



Balloon Backdrop / Wall

Balloon Photo Frame

Balloon Arch

Balloon Column

Balloon Sculpture or Table Centerpiece

Helium Bouquets

Are you excited but don't know how to start?  Text us by SMS/ Whatsapp/ WeChat, or drop us an email at info@partydreams.ca with the information listed below,
Occasion: Please include name & age for birthdays

Theme: Please include characters or color preference if applicable

Venue Address

Venue Images (If available)

Budget Range

Event Date

Event Start Time

Event End Time
Sorry, there are no products matching your search.