Hand Delivery Service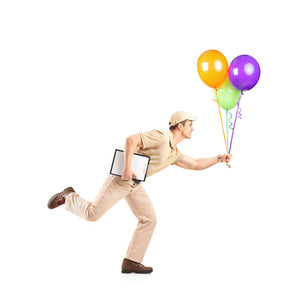 For inflated balloon bouquets, delivery service is only available in South Surrey and White Rock. We do delivery on Monday to Sunday, between 8:00 a.m. to 09:00 p.m. Once we confirm the order details with you then we will let you know the two-hour delivery time frame such as between 2:00 p.m. to 4:00 p.m.  We are unable to accept specific delivery time requests at this moment, however, we will try our best to make it depending on the delivery schedule. 
*Minimum Order for Delivery Service: $45 before tax and delivery fee applied* 
How To Order
Step 1 -   Choose the Balloon Sculpture(s)/ Helium Balloon Bouquet(s) that you would like to order, feel free to add other gifts/ party supplies/ plush/ pinata/ greeting card to go along with your order.  
Step 2 - Contact us by email at info@partydreams.ca or text us 778-683-9023 with the following information.
Balloon item description with the item name or code.  e.g. Customized Nurse Balloon Sculpture (Small) with code BP3.  If you would like to add other items to go along with your order, please also let us know.  

Delivery Date and Address (the specific and exact address is necessary for delivery quote)

Yours and Recipient Contact information
Step 3 - One of our balloon designers will follow up with you within 24 hours for the order details (e.g. balloon color, size...) and delivery information. We will let you know which delivery option and cost to purchase online.  
Step 4 - After you purchase the balloon arrangement and delivery option online, your balloon order will be delivered to the requested address on the requested date.
Delivery Policy 
If No One is Home:
If the recipient is not available at the time of delivery, the delivery person will NOT leave the order at the door.  Your order will be returned to our facility and additional return shipping fees will apply.
Incorrect Addresses

: 
If the recipient's address is incorrect and delivery was attempted to the address, there will be an additional delivery fee charged to pay for the second delivery. We are not responsible for deliveries made to incorrect addresses submitted by the customer. If such a delivery is made, the customer assumes responsibility for the entire purchase.
Cancelling an Order:

 
Once the orders are processed online, and usually cannot be changed. For more details please contact us immediately.  Refund or exchange will not be accepted.
Recipient May be Contacted:

 
For daytime deliveries, we will contact the recipient to ensure s/he will be home to accept the delivery.  If we are unable to reach someone we will leave a message asking for them to call us back to organize a convenient time for us to deliver.  If we do not hear from the customer, we may put the order on hold.
Extreme Weather and Inaccessible Locations: 
There will be times when delivery dates and times will not be met due to circumstances beyond our control. Sometimes, extreme weather may make it impossible for your order to be delivered as you wished. If your order cannot be delivered due to weather conditions, inaccessibility to the delivery site, special order considerations and delays, or for any other reason, we will make every attempt to contact the sender and/or the recipient concerning the delay.  Unless you tell us otherwise, in all situations where we are unable to deliver your order on time, in the method you specified, we will reschedule delivery for the next available delivery date and time.
Sorry, there are no products matching your search.